PRESS RELEASE
Charlotte, North Carolina; January 14, 2005
Contact: Dr. Jack Terry : 704-332-9565

DR. TERRY ASSUMES TOP POST AT NATIONAL BOARD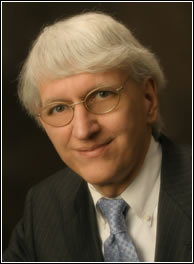 Jack E. Terry, O.D., Ph.D., was named recently the new Executive Director of the National Board of Examiners in Optometry.
Dr. Terry currently serves as Chiefs of both Optometry and Research Services at the Huntington Department of Veterans Administration Medical Center, is Director of the Marshall University Office of Research Integrity, and is an Associate Professor of Pharmacology at the Joan C. Edwards School of Medicine at Marshall . Dr. Terry also is a Director and is Chairman of the Data and Information Committee of the Association of Regulatory Boards of Optometry (ARBO) as well as President of the West Virginia Board of Optometry. In addition, Dr. Terry has served on numerous NBEO® tasks forces and has been active in the development of national board examinations for more than two decades, as a member of several committees and as Chairman of the Examination Council.
The selection of Dr. Terry, following a national search, became necessary when the NBEO® Board of Directors decided to move the headquarters from Bethesda , Maryland , to Charlotte , North Carolina . This action was taken to assure the future cost effectiveness of the National Board, and to reduce or limit increases in candidate fees in the future. The Board's belief is that by transferring its headquarters to a new location with lower costs of living and operating expenses, the Board can be more efficient and pass these cost efficiencies on to its candidates.
The current Executive Director, Norman E. Wallis, Ph.D., O.D., D.Sc. (Hons), who chose not to move to Charlotte, will end a 25-year relationship with the National Board that began on January 1, 1980. Prior to becoming the NBEO's second executive director, Dr. Wallis was President of the Pennsylvania College of Optometry from 1972, and had also served in administrative and faculty positions at the New England College of Optometry, the University of Houston College of Optometry, and Indiana University School of Optometry. In addition to his academic appointments, Dr. Wallis has served as president of the Association of Schools and Colleges of Optometry, as a member of the Special Medical Advisory Group of the Department of Veterans Affairs, and as a director of the National Board of Medical Examiners. In the 25 years that Dr. Wallis has been its Executive Director, the National Board has gained the respect of optometry internationally and recognition by other health professions for its excellence in assessment programs to assure entry-level competence on behalf of the state licensing boards and the public.
When Dr. Wallis became Executive Director in 1980, the NBEO® operating budget was less than $300,000, and net assets were less than $40,000. Currently, the operating budget is over $3 million and net assets are $5.8 million. During his tenure, three major revisions of the "National Boards" have been accomplished, and the Treatment and Management of Ocular Disease (TMOD® ) examination was established as the gold standard for knowledge necessary to meet the new responsibilities of expanded scope of practice. In 1980 fewer than 35 state boards accepted National Board results for some aspects of licensure, and all state boards administered their own practical clinical examination. Currently all state boards require passing Parts I and II of the "National Boards," and 47 state boards require passing Part III, which includes a national practical examination, for licensure. In 1993, the National Board was the first national board of any US health profession to institute a standardized "hands-on" practical examination as part of the national assessment of entry-level competence.
Commenting on the selection of Dr. Terry, Dr. Wallis said: "In my view there is no one more qualified than Dr. Terry to assume the role of executive director at this time. Dr. Terry has been actively involved with NBEO® as a volunteer for over two decades and has been a steadfast subject matter expert and committee member for many years during the interim. His experiences as a faculty member and research director at a medical school, as chief of optometry at a VA medical center, and as president of a state board and a director of the Association of Regulatory Boards, equips Dr. Terry uniquely for this important role. I am delighted to be able to hand over the management of NBEO® to such an outstanding colleague. I am sure that with his energy and ability the NBEO® will go on to new heights of excellence in its service to the public and the profession."
NBEO® President Dr. Steven Eyler, who practices in Charlotte , North Carolina , commented: "The national search generated interest from a number of fine and capable people. However, the Board believes that in selecting Dr. Terry the momentum developed by Dr. Wallis in the previous 25 years will be continued, and new and even more exciting options will be explored and implemented in the coming years for the Board's service to the profession and state boards."
Dr. Terry will assume full time duties as Executive Director no later than April 1, primarily related to establishing the new office in Charlotte, and recruiting and training new staff. Leon J. Gross , Ph.D., Associate Executive Director and Director of Psychometrics and Research for the past 24 years, has already taken up residence in Charlotte . The remaining twelve full-time staff members who chose not to move will be helping their Charlotte replacements acclimate during the three-month period April through June from the Bethesda office. The NBEO® Board of Directors anticipates that the Charlotte office will be fully operational with a seamless transition from Bethesda on July 1, 2005.